Walking to End Hunger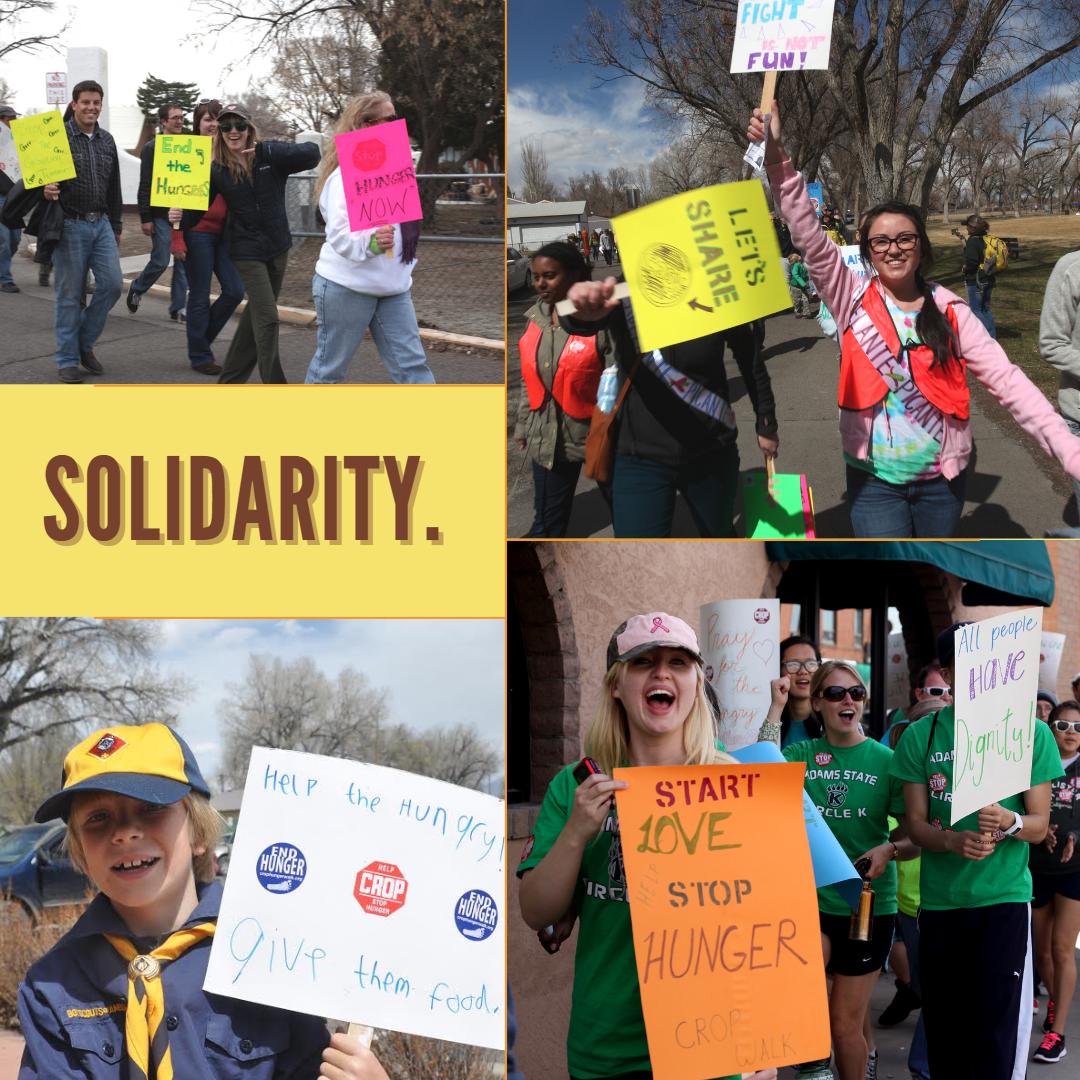 CROP Walk was my introduction to the concept of solidarity. The idea that I could go on a walk and use that time to listen, learn, and reflect was somehow supporting people dealing daily with hunger didn't make sense to me until I did it. I remember my first CROP Walk, I learned that the average distance worldwide that people have to walk every day to get water was over three miles and that's why the walk's distance was a 5K. That fact echoed in me as I took my steps. I imagined what it would be like to be hauling my family's daily supply of water.
As a woman, I realized that would have been a task of mine throughout childhood and into my childbearing years, and probably even as I aged if I lived in an impoverished country. That realization and reflection has stayed with me and has influenced my actions in a couple of ways. It has given me the conviction to give generously to causes serving people living in poverty with both my time and my money.
I have read more about water and hunger issues worldwide and I can confidently participate in conversations around such topics. News about water and food crises has more context. CROP Walk was also the place where I learned about food deserts and that a lot of people in the San Luis Valley live in them. Having grown up on Zapata Subdivision, I could reflect and remember the rare trip to town. The need to eat the fresh produce in the first few days and then go a while before the next batch. We were poor when I was a child, but I never had to endure the feeling of hunger in hope of a next meal.
The more I practice solidarity, the more I realize how much more I have to give than simply thoughts and prayers. Things get real. I have fasted to build my understanding of hunger. When I'm hungry I can stop and eat anytime, but I get irritable or impatient – we have the word hangry for that in our society. In my fasting I have learned that people dealing with hunger in a way that they're not sure how they'll get enough food, where their next meal will come from, or when they'll get to eat again, these people aren't allowed to be hangry. They're supposed to be humble, polite, content in their long suffering, and always grateful.
Events like CROP Walk are an invitation for people to reflect, build understanding and to develop compassion. I go to CROP Walk every year and I bring my kids. My kids will grow knowing that they can make a difference in the issues they care about and that any impact they will have must begin with their learning and engaging. Do you care about poverty, hunger, or access to water in your community, country, or across the world? CROP Walk is a safe, fun, and impactful way to get started. Plus there's a feast of frito pie at the end!
Bring your walking shoes for this year's CROP Walk on May 7th, starting at 1 p.m. outside the Senior Center! To register, visit https://events.crophungerwalk.org/2023/event/alamosaco. For more information, visit La Puente's website at lapuentehome.org/cropwalk23.