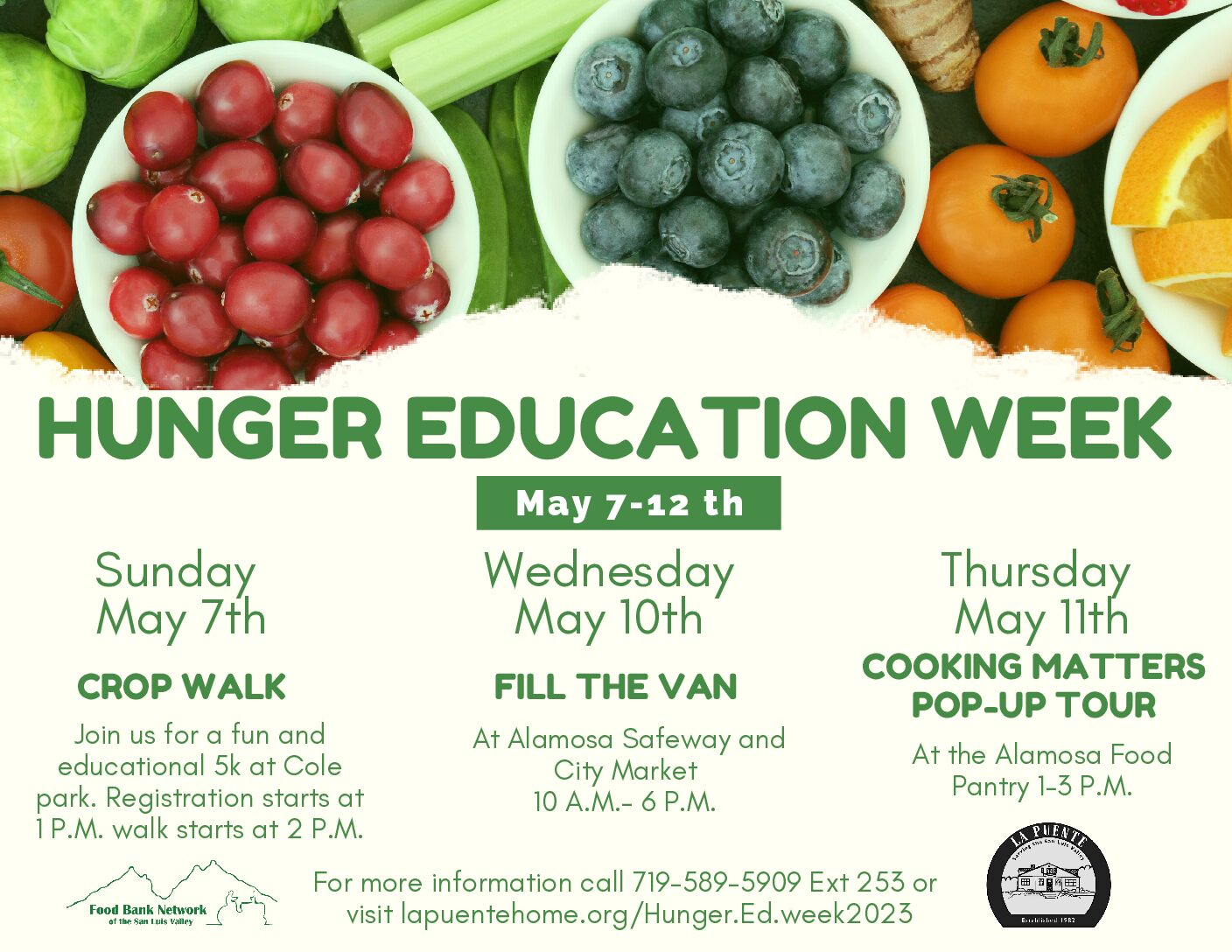 Millions are still unable to eat sufficient food to meet basic nutritional needs. Hunger Education Week is a series of events designed to increase awareness about the realities of hunger in our communities and what we can do to help. La Puente's 2023 Hunger Education week will take place from Sunday, May yth through Friday, May 12th.
Sunday, May 7th:
CROP Walk
Cole Park (Alamosa Senior Center) | Registration 1 p.m. | Walk 2 p.m.
Walk in solidarity with those experiencing hunger around the world. We'll have food, music & prizes!
Register online at: https://lapuentehome.org/event/cropwalk23/ or contact volcom@lapuente.net for more information.
Wednesday, May 10th:
Fill The Van
City Market & Safeway (Alamosa) | 10:00 a.m. – 6:00 p.m.|
Come out to City Market or Safeway on Wednesday, May 10th and help us fill our Food Bank vans with canned goods or fresh produce. All donations will go directly to the Food Bank Network of the San Luis Valley.
Thursday, May 11th:
Cooking Matters Pop Up Tour
La Puente's Food Bank Network of the San Luis Valley.
| 1:00 p.m. – 3:00 p.m. |
Please join us as we learn about the importance of cooking healthy, nutrient-dense meals, as well as shopping and cooking tips. The event will include food group-specific educational stations so that attendees can learn, first hand, how to make the healthy choices for a well-balanced meal. All attendees will receive a free $10 gift card to City Market after visiting all of the stations!
The week will consist of free, informational events, and all members of the community are welcome to attend! For additional information or to find out how you can volunteer, please contact community.edu@lapuente.net or call (719)-589-5905 Ext. 253