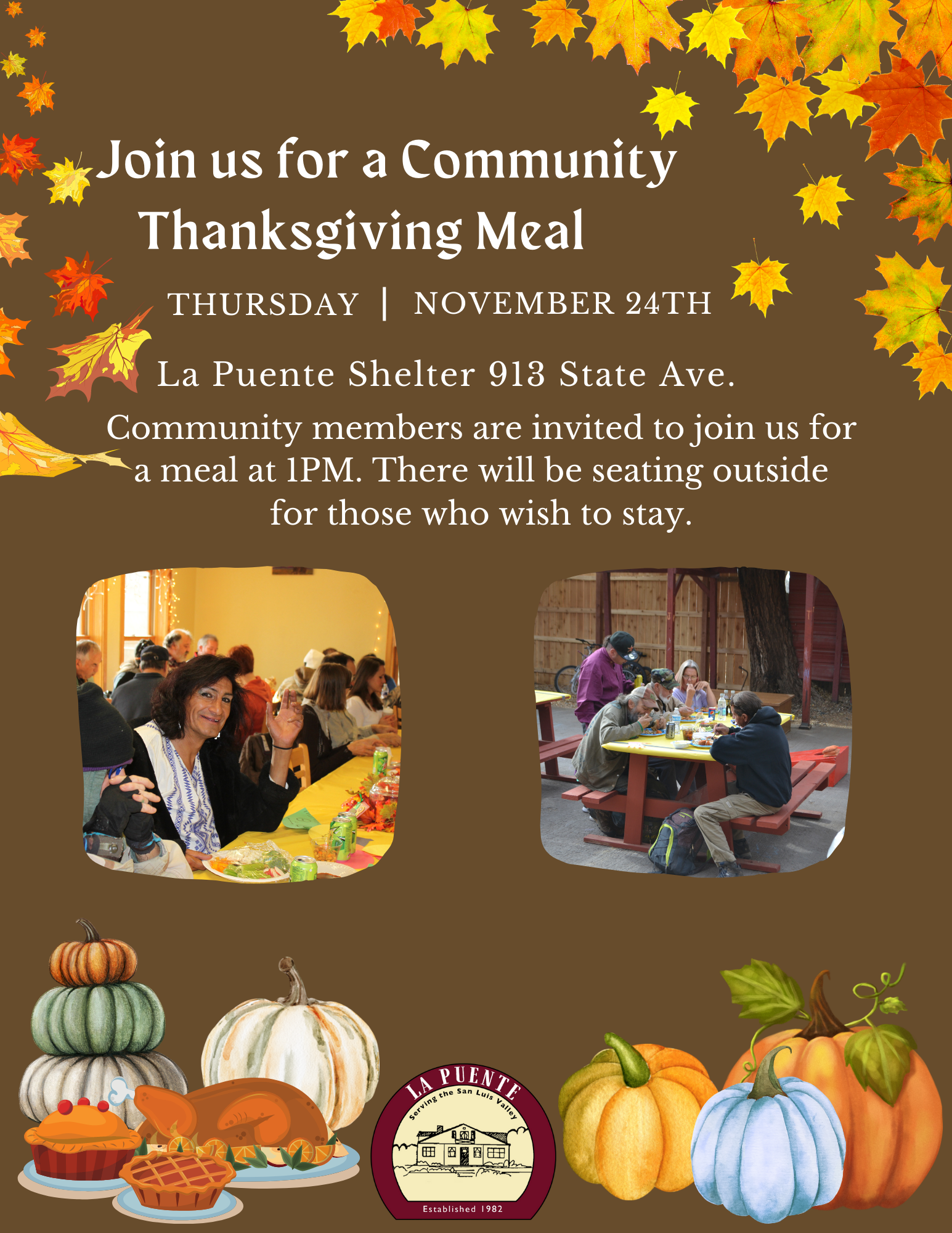 Join us at the La Puente Shelter on Thanksgiving; we are offering meals in person this year however, we can't do it without your help! La Puente needs volunteers for our Community Thanksgiving Meal which will take place on Thanksgiving Day, based out of La Puente's Shelter. The event will have seating outside for those who wish to stay. La Puente is proud to serve in a community that comes together to ensure that we all can enjoy the Holiday Season.
We are aiming to serve over 120 people this year, up from 70 last year. That means we need more food! We will be able to source potatoes and turkeys ourselves, but we need stuffing, cranberry sauce, rolls, whipped cream, apple cider, hot chocolate, bottles of water, etc. – anything you would like to see on your own Thanksgiving plate, we will happily accept.
if you have any questions about what you can donate, or if you would like to make a monetary donation instead, please reach our via phone or email. For more info please contact Lucius Reibel at (719) 587-3499 ext. 303 or email volunteers@lapuente.net for more information.
We are also looking for volunteers to cook food, either their own or what donors/La Puente provides (most notably turkeys and mashed potatoes). Dishes you can cook yourself include mac n cheese, vegetable plates, green bean casseroles, pies, gravy, and sliced hams. This list is not exclusive- if you have a neat idea for a dish please don't hesitate to ask! Please be aware that any dish you cook should serve at least 10-12 people.
Lastly, we are also looking for those who are willing to hand out plates on Thanksgiving Day itself. If you or anyone you know would be interested, please don't hesitate to reach out! We look forward to serving with you this Holiday Season.